Ethnicity Pay Gap
I have been campaigning for the eradication of the Ethnicity Pay Gap since 2018. During this time, it has become apparent that there hasn't been sufficient support for organisations to assess and develop plans to deal with the Ethnicity Pay Gap.  As a subject matter expert I am able to provide support to enable you to have a stress free path to tackling your Ethnicity Pay Gap within your organisation.
Consulting Services
Assessing your approach to reviewing your Ethnicity Pay Gap

Advice on capturing your data

Review and plan a strategy to utilise your data

Bridging the gap – Advice on compensating for disparity

Support and design advice on announcing your data
If you need a reminder of why it is important to deal with your Ethnicity Pay Gap, Lord Woolley makes it clear.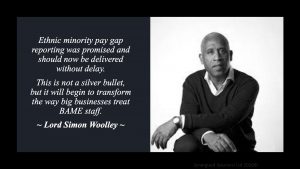 Get involved with the Ethnicity Pay Gap Campaign